Bathroom Remodeler in virginia
Your dream Bathroom for LESS

Finding the Balance between Luxury and Value.
There are several reasons to renovate or remodel your bathroom. Mostly, homeowners in USA want a bathroom remodel for three main purposes:
BHowever, working on a bathroom isn't a walk in the park. Multiple factors come into play and it's normal if you're feeling overwhelmed. We want to take the burden off your shoulders while keeping you the main priority.emodeling In Arlington
Better Guidance and Planning
You may have a lot of ideas when it comes to your bathroom. We understand your demands and try to come up with the designs best suited for you.
Bathroom Remodeler In virginia
   The Delta Remodelers lifetime warranty guarantees our acrylic products for as long as you own your residence. That means a warranty for all our acrylic bathtubs, showers, wall surrounds and accessories from chipping, peeling, cracking or fading. That's the Delta Remodelers quality We stand behind it.
 Bathroom Remodeler In virginia
   MADE IN THE USA: All our products are proudly made in the USA. All bath systems are custom manufactured for your home and individually tested before they leave our facility. 
Need a design idea for your bathroom?
  The right bathroom interior design can completely change the look and perception of the bathroom.
  The interior of the bathroom harmoniously reflects the concept and style of the house. We combine modern technology with contemporary, classic, traditional styles. Our designers can create magnificent interiors that use the best materials, panel paintings, and fine furniture for the luxury bathroom.
If you want to add elegancy and beautiness in your bathroom design, Delta Remodelers will bring your space splendor and nobility; wherever you are in north Virginia, don't hesitate to call us today.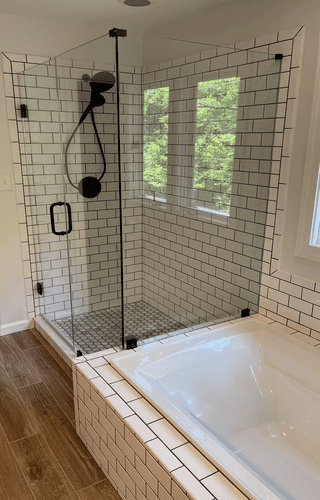 Select your Desire Luxury Bathroom Designs
  When you start to look at how to design a bathroom, planning is the key. A bathroom is a practical space that is used frequently. Family bathrooms have multiple users, of course, sometimes at the same time, while en-suite bathrooms or wet rooms will see daily use for a solo or couple occupant. As well as coping with the traffic of all the users, a bathroom has to stay hygienic plus deal with the humidity and splashes without becoming slippery underfoot or looking worn.
Bathroom Remodeler In virginia
Bathroom Remodeler In virginia